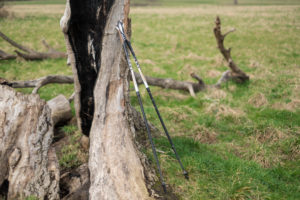 Can I join one of your regular Nordic walking groups straight away?
The courses are all beginner at the moment, please get in touch if you are interested in booking and we can email you a medical form to fill in.
Who can Nordic walk?
Anyone who can walk and swing their arms freely can Nordic walk. Our walks are an hour long and require a reasonable level of fitness.
Do I need to bring my own poles?
No. We provide Nordic walking poles but if you have your own, please feel to bring them. We have a limited number of poles, which is why it is important to book.
What shoes should I wear?
The best footwear is waterproof, breathable, walking shoes. If you don't have these then trainers are good (but you'll get wet feet if it has been raining). Walking boots are good because they support your ankles but the sole is often quite rigid, making it difficult to roll your foot actively, which is part of the Nordic walking technique.
What clothing should I wear?
No special clothing is required. Many people wear exercise clothes in the class. Check the weather conditions and be sensible. Layered clothing is best, with breathable fabrics and a waterproof jacket. Don't wear bulky clothing as it will restrict you as you walk. Hat and gloves are important in cold weather. Jogging bottoms or stretchy trousers are better than jeans.
What else should I bring?
Water if the weather is warm and something to carry your phone, keys and water in. A bumbag or small backpack is ideal.
Do you still walk if it's raining?
Generally yes but if it's very wet we don't go out as the walking conditions become slippery and unsafe. If in doubt call your instructor. We never walk in thunderstorms.
How fit do you have to be?
Nordic walking is used extensively across Europe as fitness training, but also can be used as a rehabilitative tool post illness or surgery. Most of our classes are designed to improve general fitness and you can make your walk as hard or as easy as you want!
How big are your classes?
The maximum number we will take in a group is 10. You need to book by emailing claire@stealthhealth.co.uk or messaging us via our facebook page.
I'd like to buy my own poles – can you recommend what I should buy and where I can buy them?
I can give advice about what sort of poles to buy and order them for you.
I want to cancel my walk. How do I do this? 
You need to cancel your walk 24 hours via text or email.