Libby Gordon from the Happy Kitchen Company has done a great guest blog recipe for Stealth Health, a healthy sweet potato slice, which makes a great snack, lunch box treat or dinner for the whole family.
Sweet Potato Slice – serves 8
Difficulty factor ⭐️⭐️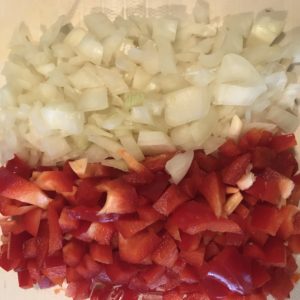 Ingredients
300g of sweet potato (peeled and roughly chopped)
100g red pepper (finely chopped)
1 small onion (peeled and finely chopped)
3 tbsp olive oil
6 eggs
75g mature cheddar (grated)
Fresh ground black pepper
NB: you will need metal-handled frying pan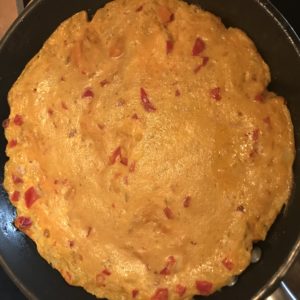 Method
Bring a pan of water to boil
Add potato and cook for 10-15mins (until tender)
Drain, then purée in a blender (or mash)
Heat half the oil in frying pan and sauté onions and peppers until soft
In a large bowl whisk, the eggs then add the onion, potato, peppers and grated cheese, stir without totally blending together and then season with pepper.
Preheat grill to "high". Heat the remaining oil in frying pan and then reduce heat and pour in the egg mixture. Cook for 3-4 mins (until egg is almost set) and then finish off (still in frying pan) under the grill for 2mins.
Allow to cool and then serve.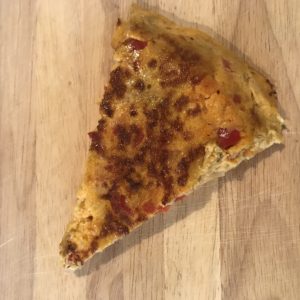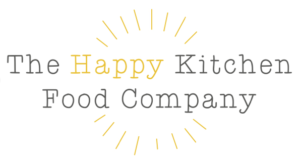 Libby Gordon is the owner of the Happy Kitchen Food Company. She started out as a Norland Nanny and went on to run a baby food company before setting up a baby room at the local Montessori nursery and before long she was cooking 40 meals a day for the baby room and the nursery too! She is now running the Happy Kitchen Food Company with a view to providing home cooked, healthy food as well as running cooking classes for children and adults. These can range from how to cook authentic Arab curries or cooking Christmas lunches to how to boil an egg! She is also running a successful series of 'how to cook' and 'how to bake' classes at local primary schools. You can follow her on Instagram.