Sir Steve Redgrave is one of the world's most famous Olympians, and he also lives in Marlow. Claire Winter interviewed him about his life as an athlete and a dad.
How did you get into rowing?
The head of the English department at my small comprehensive in Marlow asked me if I would like to try the sport. Going out of school during school time always appealed to me.
Being this country's and one of the world's most successful Olympians is quite an accolade- how have you managed to achieve so much?
A lot of fun but hard work, dedication, focus, and desire.
What do you think your greatest achievement is?
A combination of all the Olympics I competed at, being a consistent winner for nearly 20 years, which stands me out from almost every other Olympian.
Is it possible to balance family life with being a competitive athlete?
Yes, I managed to balance it, but it helped having a very supportive family.
Do you think you are born with the desire to succeed or can you cultivate it?
There are so many different factors in achieving something. I am sure it is a combination of both.
Do you think the Olympic games inspires more young people to take up sport?
Yes definitely. After every Olympic games the intake of people taking up sport increases. I am sure after the home games this will be even greater.
What is your advice to young sportsmen and women who want to take up sport competitively?
I think the main factor is enjoyment. The more you enjoy something, the more effort you will put in and the more you will achieve.
Many schools don't hold competitive sports days, do you think we need to encourage more competitiveness in our schools?
We live in a very competitive world, and I feel sport helps you deal with the success and failure of life and this is something we shouldn't be hiding away from until you leave school and enter the big wide world.
How can parents encourage their children to do more sport?
Most people find sport through education. But parents should play a big part in encouraging them to get involved outside of school, but this is a very big sacrifice for them as well.
You have written a book Great Olympic Moments, apart from your own, what is your favourite?
It is difficult for me to pick out one because all the images mean something to me. Mark Spitz was my first awareness of the Olympic games as a ten-year-old, which had a big impact on me, but I love the image of Cathy Freeman sitting on the track straight after her success at the Sydney Games. She looks like she has just lost and not won and I can empathise with that feeling. So much focus, dedication, and sacrifice has gone into that moment, but no thought has been given to what happens once you cross the line.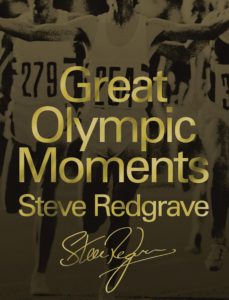 Sir Steve's Olympic themed book, Great Olympic Moments, is available from Amazon. Complete with stunning, specially selected photographs, Sir Steve Redgrave recounts his favourite Olympic stories and reveals what it is that makes these moments truly great. All the stars of past and present are in the book. Also included are some of the more infamous moments of Olympic history, including Black Power 1968, the Munich hostage crisis of 1972, Mary Decker Slaney's clash with Zola Budd in LA 1984 and Ben Johnson's disqualification at Seoul 1988, to name but a few.
This feature first appeared in the November/December issue of Families Thames Valley East Magazine in 2011.